5786 Valley Oak Drive
Built in 1952 and designed by renowned LA architect Gregory Ain, this is a great house. It has clean lines, tons of light from all angles and exudes sophistication, panache... élan.
It is a surprisingly large home for Ain who was known for bringing modernist features to more modest homes and apartments. With 4 Bedrooms and 3 Bathrooms. The main house is 2,493 SF and sits on a great 16,850 SF lot.
The house hangs prominently at the elbow of a winding, private, gated street. You might be thinking, "why would they need a gate in the Oaks?" Well, "Valley Oak" is a deceiving name for this street as it indicates that the home is "in" the Oaks. Actually it is just a few blocks up Canyon from Franklin! Personally, I find this to be a plus as it is much more convenient. It's good enough for Brad and Angelina (who own a compound a stones throw away), so it should be good enough for you!
On par with the front of the house, the back of the house delivers in spades revealing a wonderful patio, lap-pool, gardens and the most surprising attribute of the property...
A steel-beamed guest house with a wall of sliding glass.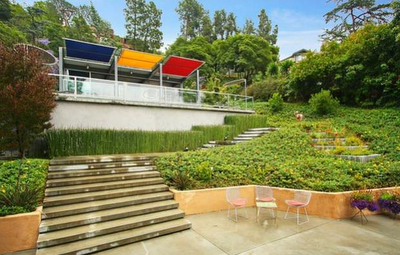 Surprising because it was designed by another renowned So-Cal architect, Pierre Koenig.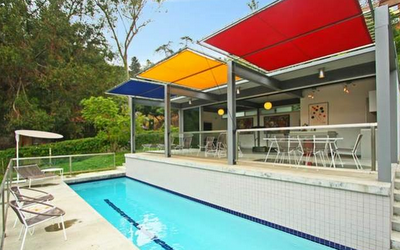 Koenig, yet ANOTHER Trojan alum is most remembered for "
Case Study House 22
," perhaps one of the most iconic homes of all time. FIGHT ON!
Kudos to the person who said, "I want a case study "pool" house dammit!" and hired Koenig to create it in their back yard (this century)!
Offered by Karen Medved of Keller Williams Studio City
The home is very strangely priced at: $1,999,951. That is pretty exact. Huh? I wonder what the conversation was that led to that final number. Did the agent and seller haggle over that last dollar? Perhaps it is a cultural, good luck thing. Maybe they will do a 1 dollar price reduction somewhere down the line.
Like I said before, this is a great house. It has a lot going for it but it's not perfect. Personally, I would pull out the carpet and put in more wood. That's just me. Hey, It's your almost $2 million.
If you want to see it, email me or call 310-991-3808